Conference Tips!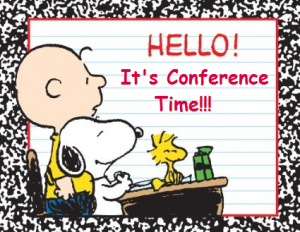 Parent/Teacher Conference Tips
Many of you have parent/teacher conferences coming up. To make the most of your 15 minutes check out some of these tips:
*************************************************
Before the Conference: 
Schedule a conference even if one is not asked for.

There are not many times you get to sit down one-on-one with your child's teacher. Your teacher has also been working with them for months now. This is a great time to hear an update. Take advantage of this time.
Ask your child if there is anything that he/she wants you to talk about with his teacher. Ask your child how he/she feels about school.
Bring a list of questions.

Need to discuss your child's math difficulties or a sticky social situation? Jot down your concerns beforehand so you don't forget them when you're on the spot. 
Consider emailing your concerns: Usually teachers can only give you about 15 minutes. If your list is really long, you can email it to her beforehand. That way she is prepared.
*********************************************
During the Conference:
* Be open-minded. You may be surprised by some of the teacher's observations, but try to be receptive. Realize that your child may behave differently at home than at school.  Ask for examples to help you understand. 
* Ask the most important questions first
* Leave with take-home tips. Pick the teacher's brain for test-taking tips, homework-help ideas, or ways to improve your child's social life. 
* Thank the teacher! This goes a long way.
*********************************************
After the Conference:
* Talk about the conference with your child
* Talk about the positive points, and be direct about problems. 
How to Translate Teacher Talk 
When the teacher says: Your child is great, and I have no issues.
This should be a red flag of sorts. It means your child doesn't need extra attention to stay on task, so they may also not be getting enough attention.
She says: Your child isn't working to her potential.  
She might mean: She's doing as little as possible to get by.
She says: Your child is a passive learner. 
She might mean: She rarely gets involved in class and leaves discussions to the other students.
She says: We need to place emphasis on her social skills and relationships. 
She might mean: Your child has difficulty making friends.
She says: Study skills need to be reinforced at home. 
She might mean: Please help your child prepare for tests. She isn't able to do it on her own.
She says: She's a struggling reader. 
She might mean: With help and lots of practice, she can progress to reading at grade level. 
If you're looking for some outside help, Within Reach has many reading and math classes!

We focus on:
building confidence, building a strong foundation, Common Core standards, developing fluency, learning to love math and reading, speed and accuracy, and having fun at the same time!
---
---
---